Electrolux 90cm Pyrolytic Freestanding Electric Oven/Stove
Holiday Shipping Information
Christmas Order Cut Off*: 10th of Dec (delivered before Christmas *may have transport delays)
Christmas Holidays: 23rd – 4th Jan (back to work on the 5th Jan)
Orders placed between the 11th of Dec – 5th Jan won't be delivered till the week of the 10th Jan unless possible before.
Electrolux 90cm Pyrolytic Freestanding Electric Oven/Stove
90cm dark stainless steel freestanding cooker with induction cooktop, Hob2Hood capability and 13 multifunction oven with Bake +Steam and pyrolytic cleaning.
Key Features
Key Features

Bake +Steam

Key Features

Twin fan system

Key Features

IOI makes cooking easy

Key Features

Smart Food Probe

Key Features

MaxiZone

Key Features

FlexZone

Key Features

Hob2Hood technology

Key Features

Pyrolytic self-cleaning oven

Key Features

Touch and slide controls
Benefits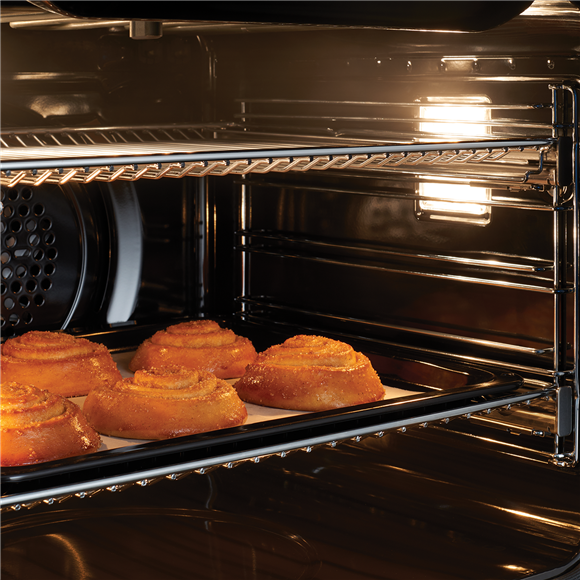 Effortless baking
Adding steam to your Baking Program can lift your baking skills to a whole new level. The Bake +Steam function on this oven uses a touch of steam to create a richer and glossier colour, a crispier crust and soft delicious texture for your home-baked goodies.
Twin fan system
Cook each dish to perfection with the Twin Fan System. Fans rotate in opposite directions, distributing heat evenly throughout the oven, so you enjoy great results every time.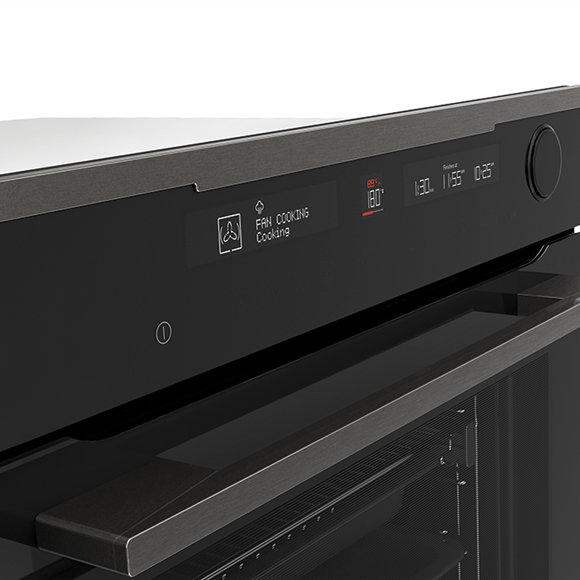 Say hello to intuitive control
Cooking should be fun, not complicated. Our Intuitive Oven Interface (IOI) gives you a simpler and more enjoyable way to cook. You wont even need a manual.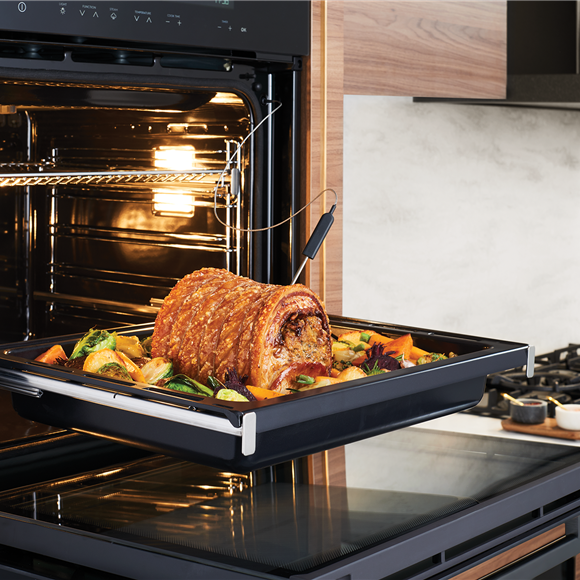 The perfect result, every time
The Smart Food Probe ensures your dishes are delicious every time. The food probe alerts you when food reaches the desired core temperature and switches the oven off so you get the perfect result.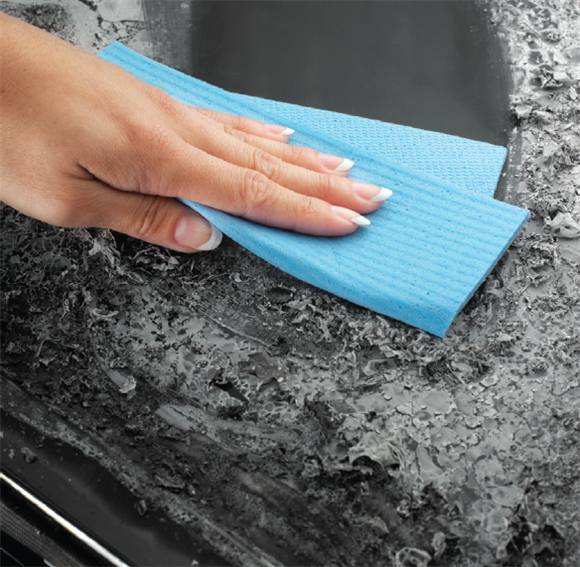 Pyrolytic self-cleaning oven
Introducing an oven that cleans itself. Pyrolytic cleaning removes the need for you to use harsh chemicals to clean your oven. Simply set the Pyrolytic function, come back when it is complete and wipe away the residue.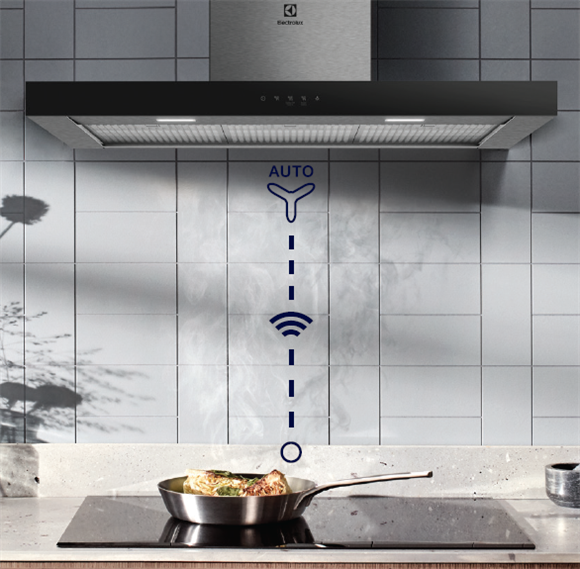 The hands free hood
While you concentrate on the flavours, the innovative Hob2Hood feature will take care of keeping your kitchen fresh. The rangehood automatically turns on as soon as you start cooking, and intuitively adjusts the fan speed with your cooking.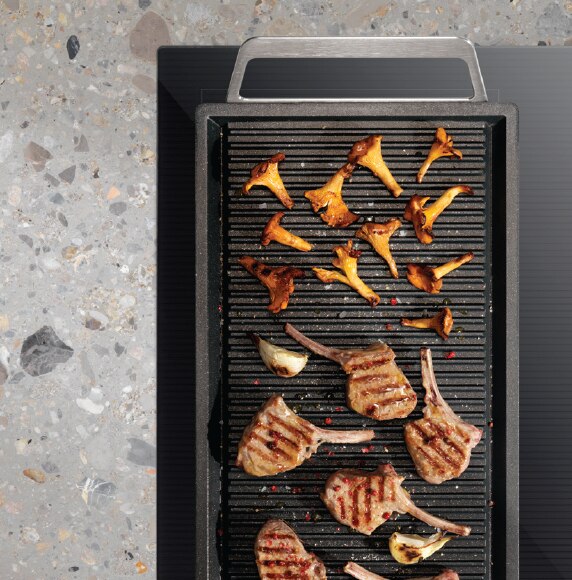 When 2 become 1
Create a single large cooking surface, ideal for making the most of plancha grill plates or roasting pots. FlexZone combines 2 separate cooking zones, including the temperature and time settings, for ultimate flexibility.
Specifications
Product Profile
LEFT REAR ZONE
Domestic warranty details (yrs)
LEFT REAR ZONE
Materials/Colour
Left rear watts
Dark stainless steel
LEFT REAR ZONE
Controls of Oven
Left rear watts
IOI, touch
LEFT REAR ZONE
Built in/ slot in
LEFT REAR ZONE
Front/rear controls
LEFT REAR ZONE
Storage drawer
Dimensions
Dimensions
Total height (mm)
Dimensions
Total width (mm)
Dimensions
Total depth (mm)
Main Oven
Main Oven
Gross capacity litres
Main Oven
Useable capacity litres
Main Oven
Number of functions
Main Oven
Pyrolytic functions
Main Oven
pyrolux high temperature enamel
Main Oven
Layers of glass in door
Main Oven
Telescopic runners
Main Oven
Number of shelves
Main Oven
Number of shelf positions
Main Oven
Closed door grilling
Main Oven
Fold down grill element
Cooktop If Applicable
namespace
black ceramic glass
namespace
stainless steel
lebel
Removable trim (for cleaning)
lebel
Wok included designed to fit cooktop
lebel
Left front diameter
lebel
Centre front diameter
lebel
Right front diameter
lebel
Right rear diameter
lebel
Position of controls
lebel
Functions of Cooktops
namespace
stop and go, automatic warm up, timer, Keep warm function, auto heat up, cooking timer with acoustic signal, acoustic signal, booster, automax, Hob2Hood
key
stop and go, automatic warm up, timer, Keep warm function, auto heat up, cooking timer with acoustic signal, acoustic signal, booster, automax, Hob2Hood
namespace
programmable 99min, auto off, countdown, CountUp, Minute minder
key
programmable 99min, auto off, countdown, CountUp, Minute minder
Electrical_connection
lebel
Maximum current rating (amps)