Westinghouse 70cm Induction Cooktop
Westinghouse 70cm Induction Cooktop
70cm 4 zone induction cooktop with Hob2Hood, PowerBoost, Pause function, QuickCook Timer and 6.5kW rated input power for hassle-free upgrade from ceramic cooktops.
Key Features
Key Features

BoilProtect

Key Features

FlexZone

Key Features

Hob2Hood

Key Features

PowerBoost

Key Features

Pause

Key Features

QuickCook Timer

Key Features

Perfect heat control

Key Features

Touch slide control

Key Features

Easy cleaning

Key Features

Residual heat indicator

Key Features

Child safety device
Benefits
No more boiling over
There are more exciting things to do than watching water boil. BoilProtect detects rising bubbles and automatically reduces to a low simmer. No more constant monitoring so you can focus on the flavours. Applies to stainless steel and enamelled pots filled with water only.
FlexZone gives you room to move
Cater for larger pots & pans with Flex Zone. Designed with busy family kitchens in mind, Flex Zone lets you use two induction zones separately or link them together when you're cooking for a crowd.
Slide for instant temperature control
Easy touch slider control allows you to choose your temperature setting instantly with the slide of a finger.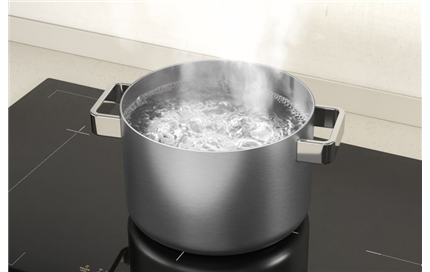 Zero to Boil in no time
With PowerBoost, you can rapidly boil a pot of water or quickly heat up a frying pan. Spend less time waiting and more time creating your favourite meals.
Hold everything with our clever Pause function
We know that family life is full of distractions. That's why you'll appreciate our clever Pause function. Simply touch the Pause icon on your cooktop and all operating induction zones will drop to Keep Warm mode. When you're ready to go again, hit Pause again and settings will return to where you left off.
Clear the air with Hob2Hood
With Hob2Hood technology, compatible rangehoods work seamlessly with your induction cooktop to clear your kitchen of cooking smells and steam. As you start cooking, the rangehood will automatically turn on then intuitively adjust the fan speed and airflow to match your cooking. How's that for hands-free convenience?
Specifications
Controls
lebel
Controls of Cooktops
namespace
Touch and Slide controls
key
Touch and Slide controls
lebel
Position of controls
lebel
Functions of Cooktops
namespace
timer, Keep warm function, pause, PowerBoost, Hob2Hood, BoilProtect
key
timer, Keep warm function, pause, PowerBoost, Hob2Hood, BoilProtect
namespace
fault indicator, residual heat warning lamps
key
fault indicator, residual heat warning lamps
lebel
Features of Cooktop
namespace
BoilProtect, Hob2Hood, FlexZone, safety cut off, electronic timer, safety child lock, hot surface indicator
key
BoilProtect, Hob2Hood, FlexZone, safety cut off, electronic timer, safety child lock, hot surface indicator
namespace
programmable 99min, countdown
key
programmable 99min, countdown
lebel
Readable temperature setting
Electrical Specifications
Product Profile
lebel
Domestic warranty details (yrs)
namespace
black ceramic glass
Dimensions
lebel
Total product height (mm)
lebel
Total product width (mm)
lebel
Total product depth (mm)
Resources
Specification Sheet